Hollow Flower Pattern Purple Crystal Heart Bracelet Length 20CM 925 Sterling Silver
FFJBRACELETS20CMHOLLOWFOLLOWER9250043
Delivery
Home Delivery: 4 - 7 days
Standard shipping charges: Rs. 200
Cash on Delivery Available
100% Authentic
Shipping Information
We ship our orders all across Pakistan, except for few remote areas that are considered out of service areas.
Fast Forward Pk shipping fee is reasonable, irrespective of the order quantity and amount.
Our delivery partner is Blue Ex Pakistan.
Delivery process takes within 4-6 working days.
Due to holidays and unforeseen incidents, delivery may be delayed, depending on the nature of the event.
Reasonable shipping charges are offered.
Returns
All kinds of products sold through fastforwardpk.com can be returned, except for custom-made or international deliveries.
You can return the product within 7 days of delivery.
Return conditions must be met:
- The product should be unused, undamaged, and in its original packaging.
- Any included accessories, tags, or labels should be intact.
- Proof of purchase should be provided.
- The return request should comply with the specified timeframe.
customers are viewing this product
CRAFTED: in 925 Sterling Silver with 925 stamp.
PREMIUM QUALITY STONE: Set with AAA+ grade 4mm princess round cut cubic zirconia, The vintage tennis bracelet with the dazzling clear CZ crystal
SECURE CLASP Enhanced with a high-polish finish and secured comfortably with a pressure tongue clasp, this CZ bracelet is a classic addition to any jewelry collection.
Round snake chain bracelet in sterling silver adds a sense of style to the basic look. With bright luster, strong and durable, comfortable and durable, suitable for daily wear. The chain brings a modern look to casual wear and formal wear. It can be worn alone to present a classic look, and decorated with beaded accessories to personalize it, or stacked and layered with other bracelets to highlight the fashionable  atmosphere.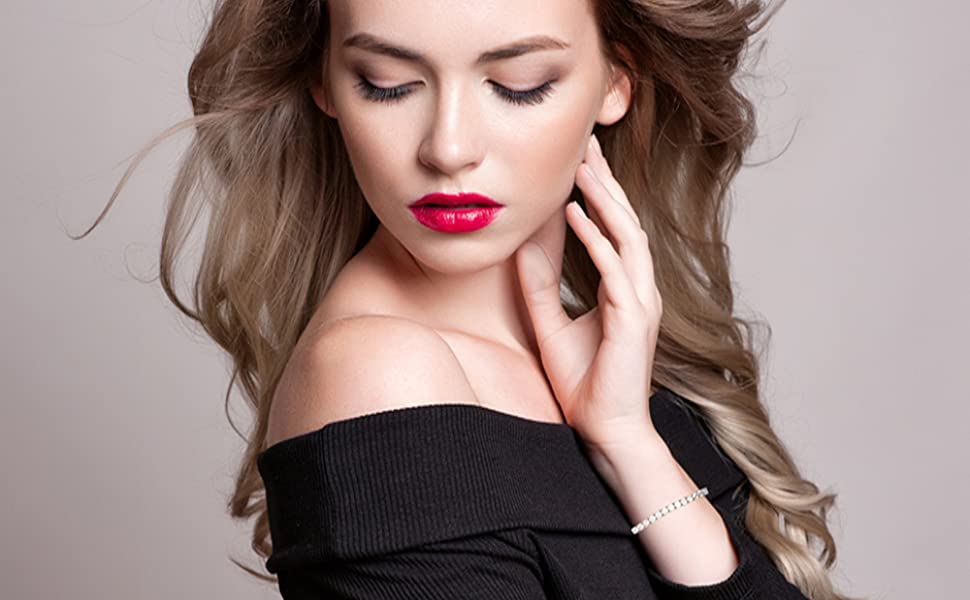 ♚JEWELICIOUS by fast forward♚♚ Professional 925 Sterling Silver Jewelry Brand
Jewelicious Jewelry is committed to providing providing high-quality products, original design and excellent service. Every jewelry has its own unique meaning, give it to your loved one, indicating that she or he means unique to you, unparalleled and irreplaceable.
Material&Quality: Hypoallergenic 925 sterling silver & AAA-quality CZ stones, Lead-Free & Nickle-Free, safe for sensitive skin. Ideal jewelry for little girls, teens girls, women of all ages !
➣About Sterling Silver
Sterling silver is a combination of 92.5% fine (pure) silver and 7.5% other metals, usually copper. Natural mined silver, called fine silver, is too soft for producing jewelry and must be combined with another strong metal. Sterling silver jewelry is traditionally stamped S925.
➣Jewelry Maintenance: -Keep away from water, sweat and cosmetics;-Do not wear it in shower, swim, sleep, sport and wash something;-Do not exposed to air for a long time, put into sealed bag or box will bebetter;-Please use soft cloth to clean and wear carefully, do not pull too hard orthrow.
➣About Customer Servies -Within 24 Hours Fast Response--;-100% Quality Inspection--;-As per daraz pelt form Money Back Guarantee
1 X 925 Silver Bracelet